danielkaler
Joining the Cincinnati Symphony Orchestra in 2022, cellist Daniel Kaler began his initial studies with Donna Davis and Gilda Barston. Kaler continued his private studies with Hans Jørgen Jensen of the Northwestern University's Bienen School of Music and Stephen Balderston of the DePaul University School of Music. He received his Bachelor of Music in Cello Performance from the Cleveland Institute of Music and Master of Music in Cello Performance from Rice University's Shepherd School of Music, having studied with Mark Kosower and Brinton Smith, respectively. In recent years, Kaler performed with the Asheville Symphony Orchestra, West Virginia Symphony Orchestra, Bogotá Philharmonic Orchestra, Boca del Río Philharmonic Orchestra, Chautauqua Music School Festival Orchestra, and the Cleveland Institute of Music Orchestra. Kaler was a prizewinner at the North International Music Competition, Clara Schumann International Competition, Muse International Competition, Cleveland Institute of Music Concerto Competition, where he was also awarded the Payne Fund Prize, and the Sigma Alpha Iota Concerto Competition at the Chautauqua Music Festival. His concert engagements for the 2023-24 season include performances of works by Bach, Brahms, and Tchaikovsky. Kaler attended and gave performances at solo, chamber, and orchestral programs, such as the Chautauqua Music Festival, Keshet Eilon Summer Mastercourse, Sarasota Music Festival, Heifetz International Music Institute, Bowdoin International Music Festival, North Shore Chamber Music Festival, Music In The Loft, Young Steinway Concert Series, and Chicago Cultural Center. He has appeared on WFMT's "Introductions", WCLV, as well as WCPN's "Applause Performances".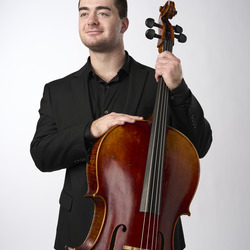 Cincinnati, Ohio
https://linktr.ee/danielkaler
Member since March 16, 2016
1 Following Follow | Private Message
Has Studied Instrument For:
Since the age of 4.
Favorite Composer:
Gustav Mahler
Favorite Piece of Music:
Mahler symphonies
Videos by danielkaler - 826995 Total Views