Joachimamadeus
Joseph Jones developed his interest in conducting at an early age; after beginning to cultivate it with independent score study at the age of 14, he began a course of study with Dr. Harlan Parker at the Peabody Conservatory. In November 2004, he made his operatic debut with Capitol Opera, Harrisburg, as conductor and music director in four performances of Mascagni's L'amico Fritz. In the summer of 2005, Mr. Jones was awarded a fellowship to study at the American Academy of Conducting at the Aspen Music Festival—at the time, the youngest conductor ever to receive a fellowship to that program. He studied with David Zinman and Murray Sidlin, conducting the American Academy of Conducting Orchestra in masterclass readings and concerts. Mr. Jones is the founder, artistic director and conductor of the Orchestra Amadeus, a project based in New York City which performs benefit concerts for humanitarian causes. Other recent activities include a conducting apprenticeship with the New York Youth symphony; a fellowship with the Allentown (Pa.) Symphony orchestra; and serving as assistant conductor with the National Music Festival and Gulf Coast Symphony. Mr. Jones has also appeared with the Moscow Symphony, the Kuban Symphony, and the Orquestra Sinfonica de Coyo. He has participated in masterclasses with orchestras such as the Omaha Symphony and Rose City Chamber Orchestra, and conductors David Zinman, Vladimir Ponkin, Michael Morgan, Murray Sidlin, Thomas Wilkins, Mark Gibson, and Achim Houloub. Mr. Jones studied composition, conducting, and viola at the Peabody Conservatory of Music.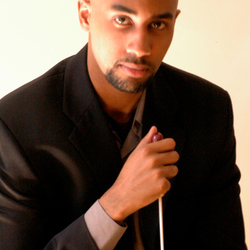 Member since April 19, 2020
0 Following - Follow | Private Message
Leave a tip!
Videos by Joachimamadeus - 14 Total Views